Social sustainability examples are all around us and learning to recognize them and why they matter is crucial for understanding social sustainability. What is social sustainability?
Social sustainability is one of the 3 pillars of sustainability (also known as the 3 Ps) and it describes actions that we can take to improve society. Social sustainability issues examples include improving the quality of our lives, reducing inequality, cultural sustainability, and helping people make better choices about their health, education, and work.
An audible narration
▶♫🎧
is available for this article. Listen to our podcast below, it's FREE:
Social sustainability examples
What are some examples of social sustainability?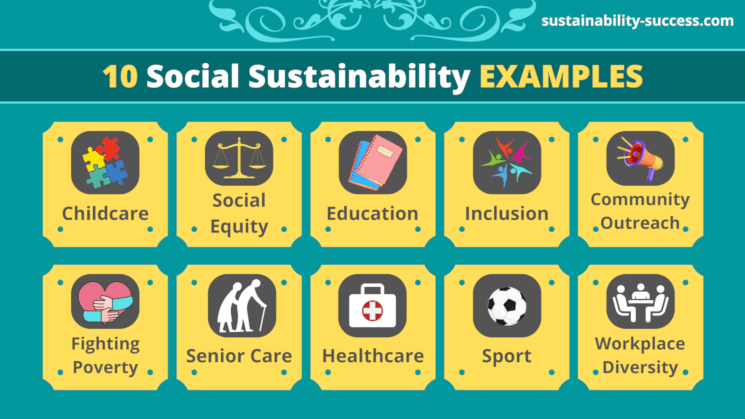 Here are the 10 best social sustainability examples in our society:
Childcare
Social equity
Education
Inclusion
Community Outreach
Poverty alleviation
Senior care
Healthcare
Sport
Diversity in the workplace
Now, let's learn more about each of those social sustainable development examples and why they matter so much for a more sustainable society.
1. Childcare
Childcare is an issue that affects everyone. You may not have children, but it's still a challenge for your friends and family members who do. It's also a challenge for society as a whole.
Childcare is a universal challenge because it impacts the economy, the environment, and the community at large.
That's why childcare is an important example of social sustainability. Thanks to childcare services it is possible to help single parents to keep their jobs and income as well as provide new opportunities to socialize.
The challenge is particularly acute in the United States, where childcare is expensive and access to it is unequal. This can lead to consequences such as parents feeling pressure to leave their jobs or children being left at home unsupervised.
Childcare also has an impact on the economy: The amount of time that working parents spend with their children has a significant economic effect on them and on society as a whole. For example, one study found that the introduction of parental leave policies for working mothers had a "positive impact on the working hours during the first 3 years after childbirth".
Finally, a recent study shows that applying the UN sustainable development goals (SDG) framework to childcare can help to highlight the right steps to take when implementing childcare for sustainable development.
2. Social equity
Social equity is about everyone having equal access to the same opportunities. In other words, social equity is about everyone being able to participate in society and have a voice in the decision making that affects their lives.
Social equity is not just about treating people equally or equally well: it's also about treating them with respect and fairness.
Social sustainability includes tangible goals such as reducing poverty and increasing education levels, but it also includes intangible aspects like how we feel when we interact with our communities because isolation can be as harmful as hunger!
This means that social sustainability encompasses things like community empowerment and financial inclusion (the ability for all people regardless of income level to participate in society), but it can also mean having fun through shared experiences like playing sports together or attending cultural events together (which builds trust between neighbors).
For example, services to ensure social justice like the ones offered by the American Civil Liberties Union Foundation (ACLU) are a wonderful example of social sustainability in the United States.
3. Education
Education provides individuals with opportunities for personal growth and development, as such, it is one of the greatest social sustainability examples.
Social sustainability is an important part of education because it helps people to learn about their community and environment, which can help them to be more environmentally conscious.
Education is important for social sustainability because it also helps people to learn new skills, so they can be more productive in their jobs or other activities.
Additionally, schools, colleges, and universities are also important places where long-lasting social relationships are created for the new generations. Contributing to more cohesive communities and improving social sustainability.
4. Inclusion
Inclusion is about making sure that everyone has access to the same opportunities, and is treated with respect and dignity.
When we talk about inclusion, we're talking about how people are included in society. Inclusive societies are more likely to be successful because they include people from diverse backgrounds and make sure everyone has the same rights.
Let's look at some practical examples of social sustainability leveraging inclusivity:
Providing transportation for families who can't afford a car so they can go grocery shopping or get to work
Offering free tutoring programs for children from low-income families so they can do better in school
Giving homeless people food, shelter, healthcare services
The best way to make sure everyone has access to the same things is to include people from different backgrounds and make sure they have equal rights.
The goal is for everybody to feel included in society, regardless of their social status or economic background.
5. Community Outreach
Community outreach is a way to improve the community by helping people. It can be as simple as giving out food, or it can be more complex, like providing education and training.
The goal of community outreach is always to improve society, and therefore social sustainability.
For example, a very popular organization that provides improvements of social sustainability through community outreach is Habitat for Humanity. Providing microfinance, shelter, and affordable housing in the United States, Canada, Europe as well as in developing countries.
6. Poverty alleviation
Poverty alleviation is a broad term for the reduction of poverty and economic inequality. It is about improving the lives of people who are poor, allowing them to have more opportunities, creating a fairer society, and improving their wellbeing.
Poverty eradication is also one of the UN sustainable development goals, confirming its importance for social sustainability and a better world.
There are many ways you can help alleviate poverty and create a fairer society. You could start by taking up a voluntary role at your local charity or community center.
This will allow you to meet people who are poor and learn more about their needs. It is also a way of giving back to the community and creating new opportunities for those in need.
NGOs such as The Organization for Poverty Alleviation and Development (OPAD) are offering an important example of social sustainability around the globe. For example, one of their recent projects was to help prevent poverty due to drought in Zambia, which benefited about 20'000 people.
Another interesting perspective is also offered by this study, which shows how social sustainability can be improved in supply chains by implementing supplier development programs through NGOs.
7. Senior care
One example of social sustainability is senior care. Senior care is about creating communities where seniors can live their lives to the fullest, age with dignity and respect, and stay engaged in the community.
Many seniors are not able to leave their homes or need assistance with daily tasks such as cooking, cleaning, or laundry. In these cases, they may want to move into a facility that provides this kind of service.
This is a pressing issue, especially in the US and other developed countries, which have an aging population that will require more and more senior care services in the coming decade.
8. Healthcare
Healthcare is a great example of social sustainability because healthcare is a basic human right and should be available to everyone, regardless of income.
It's an example of a public good, which means that it benefits the entire population and not just those who pay for it.
Healthcare is also an example of public service because it involves providing people with access to certain goods or services that they would otherwise have difficulty purchasing on their own.
Lastly, this service creates social capital by helping individuals create strong relationships with one another; this type of relationship may lead them to feel more connected within their communities
A recent study also explored the use of a rating system to help improve the social aspects of healthcare. This looks very promising because thanks to its use they were able to collect organizational and design suggestions to improve healing and the social sustainability of the facilities.
9. Sport
In the context of sport and social sustainability, a number of strategies can be used to achieve social sustainability by leveraging the social aspects of sports activities. These include:
Sport can be used to promote social inclusion by encouraging participation among all sections of society, including those most disadvantaged. This is called horizontal integration.
Sport promotes vertical integration through elite athlete development programs aimed at identifying talent and developing it for international competition. This ensures that high-performance athletes are representative of their country's populations in terms of gender, ethnicity, age, and other characteristics (such as disability). As well as fostering pride in one's country at an international level. Vertical integration encourages players from lower levels within sports organizations (eg junior players) to aspire towards reaching the highest level possible through their own excellence on the field or court.
In addition to these two forms of integration within sports organizations themselves (horizontal and vertical), sports can contribute directly towards promoting social justice outside them as well.
Moreover, sport is one of the best examples of social sustainability, because it encourages the creation of social relationships, can promote diversity, inclusion, equality, and provide a way out of poverty for athletes.
10. Diversity in the workplace
Here are some examples of social sustainability in the workplace!
Diversity and social sustainability. In order to be socially sustainable, a community must include a wide variety of people with different ideas, cultures and backgrounds.
Diversity is the cornerstone of social sustainability because it leads to more innovation, creativity, and better decisions.
A great example of this is diversity in the workplace. When employers hire a variety of individuals with different knowledge bases, they can often come up with better solutions than they could if they were all working in isolation from each other or had less experience in their field than others.
This is why many companies have become more intentional about hiring employees who represent different demographics from one another. So that everyone has access to ideas from diverse perspectives rather than having one person speak for everyone else at work (or worse yet not talking at all).
So much so that diversity in the workplace is also one of the key parameters considered by ESG metrics (Environmental, Social, and Governance).
Including women, and people with diverse backgrounds on the board of directors is an important aspect of Corporate Social Responsibility (CSR) and the social sustainability of an organization. This is because a more diverse top management will be able to take better decisions.
Conclusion
Social sustainability is important because it helps us to live, work and play in a just and fair society. Hopefully those social pillar of sustainability examples helped you to better understand this fundamental principle.
Together with human, economic, and environmental sustainability, social sustainability is one of the 4 pillars of sustainability. That's why achieving social sustainability and knowing great examples of how to implement it is so important: without it, we would not be able to get sustainable development!
We can use the social sustainability examples above to think about how we might apply these ideas in our own communities, workplaces, and businesses to make a better world and society.
Here are other examples that can help you to better understand sustainable development:
Economic sustainability examples
Finally, you can find all of our sustainability articles in our dedicated section.