Baled cardboard recycling is of paramount importance to reduce packaging waste and recover this valuable material. In fact, cardboard is by far the most popular packaging material, used to safely ship more than 90% of the goods in the United States and all over the world.
What does it mean to bale cardboard?
Baled cardboard is the result of compacting loose cardboard in a baler. The cardboard is initially loaded in a baling chamber. Then it is rammed by a hydraulic press and manually tied by nylon strings or wire, creating a cardboard bale of uniform size and weight ready to be collected for recycling.
An audible narration
▶♫🎧
is available for this article. Listen to our podcast below, it's FREE:
Here's a quick video on this interesting topic, for more details read on! Don't forget to subscribe to our Youtube channel!
Then keep reading to learn the $ price of a bale of cardboard, what is influencing the value of cardboard for recycling, the size and weight of a bale of cardboard, what types of cardboard are good for recycling and more! Read on!
cardboard bale price – Prices per ton
How much is cardboard per ton? Here's the cardboard recycling for cash value:
The price of baled cardboard in the United States in 2023 is about $20 – $26 per bale or about $0.02 – $0.03 per pound, so a load of 6 large bales will pay you about $120 – $156. Those prices are down considerably compared to the peak of 2022, when you could make about $50 – $90 per bale, or $300 – $540 just with a load of 6 large bales!
The price of a bale can vary depending on your location and can have significant fluctuations over time, so we recommend checking your local recycling center beforehand.
If you are concerned about the scrap cardboard price, as you can see, the cardboard recycling prices per ton in 2023 are down quite a lot compared to the 2022 peak, and in July 2023 they just touched the minimum for the year. That's how much cardboard costs for recycling in 2023.
The weight and size of a cardboard bale can vary greatly depending on the baler's size and model. But How much does a bale of cardboard weigh?
A standard bale of cardboard can weigh between 800 lbs and 1000 lbs (about 400kg to 500kg), so it can be useful to know the actual prices per weight of baled cardboard.
How much is cardboard worth? Here is what you can expect for recycled cardboard prices in 2023:
| Material & Preparation | Price per Bale of about 1000 lbs | Cardboard Price per Ton |
| --- | --- | --- |
| Baled Cardboard | $20 – $26 | $46 – $56 |
| Loose Cardboard | $16 – $20 | $35 – $43 |
Cost of Cardboard: Recycling Loose and Baled Cardboard prices per ton in the US in 2023
That's how much cardboard is worth today. Please bear in mind that baled cardboard recycling prices are constantly fluctuating and can vary significantly from one state to another.
To get the most accurate recycled cardboard prices you should get in touch with your local cardboard recycling centers. Here's a map of the top-rated cardboard recycling centers in the US!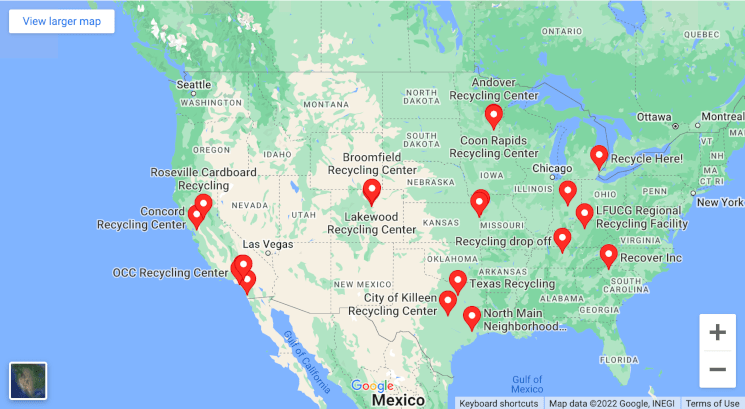 Looking for "cardboard recycling prices near me"? I would suggest getting in touch with at least 2 nearby cardboard recycling centers to know more accurately how much is a bale of cardboard worth and get the best cardboard pricing. Just click the above map to search for them!
As you can see, the recycling centers are paying about 30% more for baled cardboard compared to the loose ones. This is because baled cardboard takes up less space and it is ready to be processed by the recycling machine.
If your company needs to dispose of large quantities of cardboard (ie. more than 10 tons per month), is worth considering baling cardboard and leasing or purchasing a baling machine.
Leasing a downstroke baler would cost around $300/month, so, if you need to dispose of more than 10 tons/month of cardboard you will be able to make a profit after labor and collection expenses.
If a bale arrives at the recycling center with broken wires, it will be considered loose cardboard. To avoid damaging the wires during loading/unloading and transport, it is better to always keep them on the pallet.
What size is a bale of cardboard?
Here's the size of a standard bale of cardboard, also known as a "mill-size bale":
| SIZE OF A BALE OF CARDBOARD | inch | cm |
| --- | --- | --- |
| Length | 60″ | 152 cm |
| Width | 42″ | 107 cm |
| Height | 30″ | 76 cm |
The standard size of a Bale of Cardboard
It is also worth mentioning that a bale of cardboard is different compared to a bundle. A bundle is made by simply tieing together a pile of cardboard, bale on the other hand is much more compact because it has also been rammed by a hydraulic press.
During the baling process the volume of the cardboard can be reduced up to a factor of 10:1, because the press will remove most of the air between each layer of material.
Baled cardboard helps to reduce the necessary storage space for both your business and the recycling center, therefore reducing operational costs. So it makes sense to bale the cardboard if your business needs to recycle a lot of it.
In addition, baled cardboard will also reduce your collection and transportation expenses, because the bales will take up much less space!
What types of cardboard can you recycle?
You can recycle most types of cardboard except if contaminated with oil, grease, or if coated with plastic or fabric. So generally it is not possible to recycle used pizza boxes or packages with decorations made of different materials.
As a general rule, recycling cardboard must be:
Dry: wet cardboard will not be accepted for recycling.
Clean: avoid contamination with oil or grease.
Should I bale the cardboard for recycling? Some recycling centres accept only baled cardboard.
Should I remove the tape from the cardboard before recycling it? Generally, you can keep the tape on, because it can be easily removed when the cardboard will be soaked in water at the start of the recycling process.
Recycling cardboard is one of the easiest things we can do to improve our sustainability and limit our impact on the environment. This will help reduce the number of oxygen producing trees we need to cut to produce cardboard packaging and reduce the waste we send to landfills.
This is definitively a moral imperative if you want to have a sustainable lifestyle and preserve the environment for future generations. Recycling cardboard is an important step towards improving environmental sustainability, one of the three pillars of sustainability.
If you have a business, it is part of the company's environmental responsibility duties to reduce waste.
Moreover, depending on where the business operates, there may be government regulations that the company needs to follow in terms of limiting waste and recycling packaging materials, especially cardboard.
It is also worth mentioning that each area may have different rules for recycling cardboard, so we advise you to check with your local recycling centre and ask exactly what is allowed.
The good news is that if you have to dispose of a lot of packaging materials for your company, you can actually also make a profit from this sustainable business practice, especially for baled cardboard!
What types of cardboard can you bale?
Now you may be asking yourself: exactly, what type of cardboard can be baled and recycled?
In general, all types of cardboard can be baled: corrugated fiberboard, paperboard and all the heavy-duty paper products generally used for packaging.
What is corrugated fiberboard?
Corrugated fiberboard is the common brown carton used for shipping goods, yes, exactly that one! This type of cardboard is extremely popular because it's lightweight, quite resistant and easy to recycle.
Corrugated fiberboard is typically made of 3 to 7 layers of strong paper, depending on the level of protection and strength of the box required for shipping:
Single-wall cardboard: it has 3 layers of paper. The middle layer is corrugated to guarantee improved protection against impact.
Double-wall cardboard: it has 5 layers of paper, 2 of which are corrugated. Those offer more protection against impact and are also more resistant to bending.
Triple-wall cardboard: it has 7 layers of paper, 3 of which are corrugated. Those are very strong boxes that may even be used instead of wood crates.
Paperboard
Paperboard has a single layer of strong paper material, it can be brown, bleached, white-lined, or glossy and it is a very popular solution for packaging. This can be used to create boxes or protective inserts and can also be color printed.
It offers less protection than corrugated fiberboard, so it is generally used to package single products or components that then are packaged inside a corrugated fiberboard box.
Paperboard can be baled as a stand-alone or together with corrugated fiberboard cardboard.
Just be careful to use wires of appropriate strength depending on the amount and type of corrugated fiberboard that you may want to add in the same bale together with paperboard because corrugated cardboard requires stronger wires compared to just paperboard when baling.
Conclusions
Given the importance of sustainable development, reducing cardboard waste is an easy and fundamental action that everybody should take by promoting recycling whenever possible.
In fact, cardboard recycling is one of the best examples of sustainable development. This is how we can harness the benefits of recycling and of the circular economy, finally improving some facts about sustainability.
Baled cardboard is the ideal solution for businesses that need to dispose of large quantities (above 10 tons/month) of this precious material, such as supermarkets, shopping centres etc.
In addition, baling the cardboard and shipping it to the nearest recycling centre can also be a profitable part of the business or a nice eco-friendly side hustle. In fact, cardboard bale recycling can pay quite well because cardboard has a very good value as a recycling material!
Recycling bales of cardboard can be a quite lucrative business that also helps the environment.
Finally, if you need a baled cardboard collection service, get in touch with a local or nationwide service. In some cases, you can also get zero freight charges for the cardboard bale collection service.
Learn more