Did you know that common shampoos may contain toxic chemicals? That's why I recommend avoiding hair care products that contain preservatives like Dimethylol dimethyl (DMDM) Hydantoin, which releases formaldehyde and has been linked to allergic reactions. If that's something you want to steer clear of, in this blog post I will go through the best shampoos without DMDM Hydantoin for healthy, glowing hair!
A shampoo without DMDM Hydantoin is a great choice for consumers who have sensitivities and allergies to preservatives, as it eliminates potential irritation from this ingredient. It is important to carefully read the ingredient list on any shampoo you purchase in order to ensure that it does not contain DMDM Hydantoin (also known as Diazolidinyl Urea, Imidazolidinyl Urea, Quaternium-15 or Germall 115).
Common alternatives to DMDM hydantoin include phenoxyethanol, potassium sorbate, sodium benzoate, and Ethylhexyl glycerin.
An audible narration
▶♫🎧
is available for this article. Listen to our podcast below, it's FREE:
Shampoo Without DMDM Hydantoin: Why is Safer?
Many people are now opting for hair care products without the chemical preservative known as DMDM Hydantoin. This preservative is an FRP (formaldehyde-releasing preservative) and can cause skin irritation, itchiness, and even hair loss over time. To avoid these potential problems, many folks are now turning to shampoos and other hair care items that don't contain this ingredient.
What is DMDM Hydantoin?
DMDM hydantoin is an antimicrobial and antifungal chemical compound used as a preservative in various personal care items like shampoos and conditioners. Originally developed as a preservative to extend shelf life in cosmetics, it slowly releases formaldehyde which can be toxic if not properly regulated.
DMDM hydantoin is also known by its other names: Diazolidinyl Urea, Imidazolidinyl Urea, Quaternium-15, or Germall 115. These all refer to the same synthetic preservative and slow formaldehyde releaser.
Are Formaldehyde Releasers Toxic?
Formaldehyde-releasing chemicals like DMDM hydantoin have been identified as potential irritants to the skin, eyes, and respiratory system.
Recently the EU banned the use of this substance in cosmetics due to concerns about possible health risks including contact dermatitis and hair loss. As a result, shampoos without this ingredient are recommended for those who have allergies or sensitivities to it or other FRPs.
People With the Highest Risk for FRP Side Effects
Those with sensitive skin or allergies
Those with respiratory conditions
Children and infants
Older individuals
Other FRPs to Look for on Ingredient Lists
When looking for shampoos with minimal hair-damaging ingredients, there are a few other common FRPs to watch out for. These include parabens, phthalates, isothiazolinones, and formaldehyde releasers such as DMDM Hydantoin. Some of these can irritate the scalp or cause allergic reactions, so it's best to choose natural options without them.
Knowing When To Switch To More Natural And Organic Hair Care Products
If you are someone who prefers more natural and organic products then you'll benefit from reading reviews as well as researching each brand's ingredient list carefully before making any purchases. I recommend paying close attention to labels by checking if there are any preservatives such as formaldehyde releasers like DMDM hydantoin or its derivatives listed.
Avoiding harsh chemicals found in many hair care products can make all the difference when looking after your looks – some examples are sulfates (SLES/SLS), parabens, and phthalates.
When seeking out more natural alternatives look for gentle cleansers such as coconut-based surfactants, plant-based proteins (like quinoa), or sugar-derived cleansers (like decyl polyglucose).
Look into hair care products with certified organic ingredients. These types of products avoid harsh synthetic chemicals which can cause allergic reactions or damage over time.
Recognizing The Signs Of A Reaction To DMDM
Yes, if exposed to too much formaldehyde releasers like DMDM hydantoin individuals may suffer side effects such as redness, swelling of lips or eyes, rashes and other skin irritations. The most serious cases could even include permanent hair loss due to allergic contact dermatitis.
Therefore, it is essential to be aware of potential signs of a reaction resulting from this type of chemical exposure. Staying vigilant about what personal care products we use can help us protect our scalps and prevent further harm down the line.
Best Shampoos Without DMDM Hydantoin (& Conditioners Too!)
Eliminating DMDM hydantoin from one's hair care routine offers significant benefits for overall health and well-being. Here is the list of the best shampoos without DMDM hydantoin selected by our team based on our experience and after carefully checking thousands of customer reviews for you:
★★★★★ 4.4
The PURA D'OR Anti-Thinning Biotin Shampoo and Conditioner set is a clinically tested solution for reducing hair thinning and promoting hair strength and thickness. Made with an organic argan oil base and 24 rare and exotic ingredients, this plant-based formula is free from sulfates and parabens, making it safe for daily use. With its 17 DHT blockers, including nettle extract, pumpkin seed, and black cumin seed oil, this set is perfect for both men and women and works as a color treatment shampoo as well.
Pros:
Natural ingredients
Chemical-free
Promotes hair growth
Effective cleansing
Adds shine
Cons:
Expensive
Not universal results
Strong scent
Adjustment period
If you're looking to promote thicker, healthier hair and reduce thinning, then the PURA D'OR Anti-Thinning Biotin Shampoo and Conditioner is the shampoo without DMDM that you need.
This top-rated formaldehyde free shampoo has been clinically tested and proven effective in reducing thinning and breakage, thanks to its unique blend of 17 DHT blockers and 24 rare, organic ingredients like nettle extract, pumpkin seed oil, biotin, niacin, vitamin E, black cumin seed oil, argan oil, tea tree oil and aloe vera juice.
Not only that, this shampoo and conditioner are also sulfate-free, paraben-free, and cruelty-free so you can trust it to be gentle on your scalp and hair while still delivering amazing results! Plus with its pleasant scent and easy application process it's a must-have for anyone wanting to take their hair care routine up a notch.
★★★★★ 4.7
Say goodbye to flat and lifeless hair with BIOLAGE Volume Bloom Shampoo! A vegan, silicone-free, and paraben-free shampoo that helps give your hair the volume and shine you want. Plus, it's Cradle to Cradle Certified and committed to sustainable manufacturing. And did we mention that BIOLAGE was the first brand to introduce a silicone-free conditioning balm and teach stylists about the benefits of reverse washing? Now, thanks to this volumizing shampoo, you can have gorgeous hair without compromising on quality! This is also the best drugstore shampoo for fine hair.
Pros:
Adds volume
Leaves hair clean and smooth
Good value for money
Trusted brand
Ideal for thin/fine hair
Long-lasting
Cons:
Strong scent for some
May not work for all hair types
Not for colored hair
May cause tangling
Results may vary
Tired of using a shampoo that leaves your hair flat and lifeless? Then BIOLAGE Volume Bloom may be the one for you! This lightweight, silicone-free shampoo is perfect for fine hair, providing volume and shine without any harsh parabens.
Not only is it great for your locks, but it's also great for the planet. The Cradle to Cradle certification guarantees sustainable manufacturing practices, so you can feel good about what you're putting on your head and in the environment.
Plus, the signature BIOLAGE fragrance will transport you to a world of indulgence and revitalization. And did we mention they were the first brand to introduce a silicone-free conditioning balm and teach stylists about reverse washing? And their products are Leaping Bunny certified cruelty-free – double win!
Put down those DMDM Hydantoin-laden shampoos and give BIOLAGE Volume Bloom a try. You won't regret it – your hair (and the planet) will thank you!
★★★★★ 4.7
Want to keep your salon hair color vibrant for up to 20 washes? Look no further than BIOLAGE Color Last Shampoo! This vegan and paraben-free shampoo can even be used on pre-lightened hair. Plus, with their commitment to sustainability and cruelty-free practices, you can indulge guilt-free. And did we mention the iconic fragrance that will transport you to a moment of pure bliss? Give your hair the love it deserves with Biolage shampoo.
Pros:
Protects hair color
Moisturizes and nourishes
Improves hair texture
Pleasant fragrance
Cons:
Contains sulfates
Pricey
May not lather well
Not suitable for all hair types
★★★★★ 4.4
Looking for a shampoo without DMDM Hydantoin that's gentle yet effective? Look no further than Alaffia EveryDay Coconut Shampoo! This bad boy is packed with fair-trade virgin coconut oil and African ginger to cleanse, hydrate, and protect your hair. Plus, it's sulfate-free and cruelty-free, so you can feel good about using it every day. And let's be real, who doesn't want to smell like a delicious coconut? Finally, I can personally confirm that my scalp got better after some time I was using this shampoo for hair.
Pros:
Great scent
Gentle formula
Affordable price
Leaves hair soft
Cons:
Not great for volume
May cause buildup
★★★★★ 4.5
If you're looking for a sustainable and zero-waste alternative to traditional liquid shampoo, Ethique's Refreshing Solid Shampoo Bar is the best option. Not only is it plastic-free and eco-friendly, but it's also vegan, cruelty-free, and palm-oil free. Ethique is committed to creating conscious and concentrated haircare products that help reduce carbon emissions through their "Compact by Design" initiative. Plus, with a range of other solid beauty bars available, Ethique makes it easy to give up the bottle for good.
Pros:
Eco-friendly packaging
Natural ingredients
Long-lasting
Pleasant scent
Cleans effectively
Cons:
May not work for everyone
Tricky application
Higher cost
★★★★★ 4.6
If you're looking for a shampoo that can give your hair the royal treatment they deserve, then you need to check out the PURE NATURE LUX SPA Moroccan Argan Oil Shampoo. Packed with the goodness of Argan oil, this shampoo is like a spa session for your hair! It's gentle yet effective, leaving your locks feeling nourished, hydrated, and silky smooth. Say goodbye to bad hair days and hello to hair that's fit for a queen!
Pros:
Nourishes dry hair
Softens hair
Lovely scent
Promotes hair growth
Adds shine
Soothes dry scalp
Cons:
A bit expensive
Not for oily hair
Strong fragrance
May cause buildup
★★★★★ 4.6
Looking for a shampoo that's sulfate-free, silicone-free, and vegan? Look no further than Pureology Hydrate Sheer Nourishing Shampoo! Packed with natural ingredients like jojoba oil, green tea, and sage, this shampoo is designed to hydrate and nourish fine, dry, color-treated hair. Plus, it smells like a relaxing spa, so you can pretend you're on vacation instead of just washing your hair.
Pros:
Natural ingredients
Moisturizes hair
Gentle formula
Smells good
No sulfates
Overall, the Pureology Hydrate Sheer Nourishing Shampoo is a good choice for those with color-treated, fine, or thin hair who are looking for a gentle, sulfate-free formula that provides moisture and nourishment to the hair. However, the high price and potential drawbacks such as limited hydration for very dry hair and strong fragrance may not make it the best option for everyone.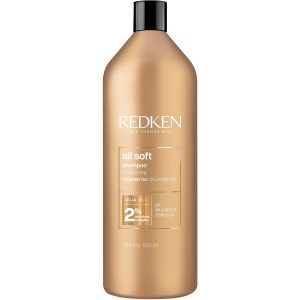 ★★★★★ 4.7
If your hair is feeling dry, brittle and lifeless, then it's time to indulge in the luxurious REDKEN All Soft Shampoo. Infused with the magic of Argan Oil, this shampoo not only gently cleanses your hair but also nourishes it, leaving it with a glossy shine and a soft, silky touch. So say goodbye to bad hair days and hello to happy, healthy locks with REDKEN All Soft Shampoo!
Pros:
Smooths hair texture
Adds shine
Nourishes dry hair
Improves manageability
Cons:
Contains sulfates
May weigh down hair
Expensive price point
Not suitable for oily hair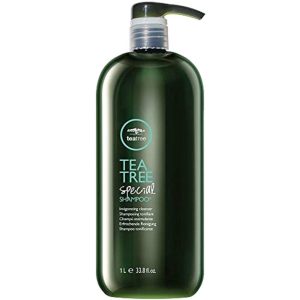 ★★★★★ 4.7
Looking for a shampoo that deep cleans and refreshes your scalp, leaving your locks healthy and full of luster? Look no further than Tea Tree Special Shampoo! Infused with a blend of tea tree, peppermint, and lavender, this vegan, paraben-free, and color-safe shampoo gives you a cool "tingling" sensation that will invigorate both your hair and your senses. Plus, with its commitment to sustainability and tree planting efforts, you'll be doing your part to help save the planet, one shampoo bottle at a time.
Pros:
Refreshing tingle
Leaves scalp clean
Helps with dandruff
Pleasant scent
Natural ingredients
A little goes a long way
Cons:
Can be drying
Strong scent for some
Expensive compared to others
May cause hair to tangle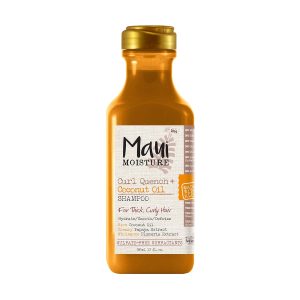 ★★★★★ 4.6
Ahoy there! Get ready to set sail on a sea of luxurious curls with Maui Moisture Curl Quench + Coconut Oil Shampoo! This treasure of a product is infused with a blend of coconut oil, papaya, and plumeria extract to quench thirsty curls and leave them feeling bouncy and beautiful. So hoist the Jolly Roger, and let your curls be the envy of all who will cross your path! I personally used this shampoo during a holiday and it was good for my hair.
Pros:
Hydrating and moisturizing
Defines curls and reduces frizz
Pleasant coconut scent
Free of sulfates and silicones
Vegan and cruelty-free
Cons:
May not lather well
Can leave hair feeling weighed down
Some experienced build-up
Packaging may result inconvenient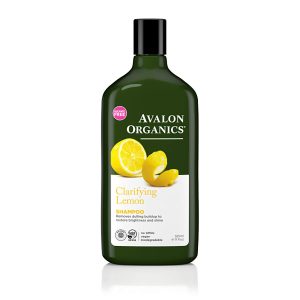 ★★★★★ 4.4
Avalon Organics Clarifying Lemon Shampoo gently cleanses and revitalizes hair while removing excess oils and dulling buildup. Its certified organic formula is made with plant-based botanicals and essential oils, and is free of GMOs, parabens, harsh preservatives, synthetic colors or fragrances, and phthalates. The shampoo is also vegan and cruelty-free, recognized by the Leaping Bunny Program. Also, my wife tried this shampoo and she was very satisfied with the results.
Pros:
Removes buildup
Natural ingredients
Pleasant scent
Adds volume
No sulfates
Avalon Organics is a natural and organic shampoo brand that offers products without DMDM hydantoin. Their shampoos are formulated with botanical ingredients, like aloe Vera, lavender, and rosemary, to provide nourishment for hair and scalp. They also use essential oils to soothe the skin and add shine to your locks. With Avalon Organics, you can get strong, healthy hair free from harsh chemicals!
Their range of shampoos includes: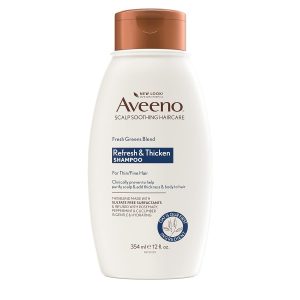 ★★★★★ 4.5
Looking for a shampoo that'll make your hair feel as fresh as a dewy morning in a garden? Look no further than Aveeno Fresh Greens Blend Shampoo! This stuff is packed with antioxidants and a blend of cucumber, rosemary, and peppermint extracts that'll leave your locks smelling amazing and feeling revitalized. Trust us, your hair will thank you.
Pros:
Natural ingredients
Gentle formula
Pleasant scent
Nourishing properties
Good price
★★★★★ 4.4
Say goodbye to oily hair, and an itchy scalp with Maple Holistics Tea Tree Shampoo! This clarifying shampoo is made with pure tea tree oil to cleanse your scalp and leave you with beautiful locks. It's also great for combating dandruff and hydrating dry scalps. Plus, it's made with natural ingredients and is cruelty-free, so you can feel good about using it. Who knew a shampoo could be so refreshing?
Pros:
Natural dandruff shampoo
Soothing scalp
Pleasant scent
Natural ingredients
Cruelty-free
Cons:
Can dry hair
Small bottle
A bit expensive
Moreover, if you are interested in plastic-free shampoos and conditioners, I have a dedicated blog post about my favorites!
Other Shampoos Without DMDM Hydantoin
Say goodbye to DMDM Hydantoin, a common preservative found in many shampoos! Acure Organics is a shampoo without formaldehyde that offers an alternative with their 4-in-1 shampoo. This natural and organic shampoo is free of the harsh chemicals found in many other shampoos, like sulfates and parabens. It also contains argan oil and plant stem cells to help nourish your scalp and hair. With regular use, this shampoo can help reduce breakage, restore elasticity, improve shine and make your hair stronger than ever.
Acure Organics offers an array of vegan and cruelty-free hair care products that are also free from formaldehyde releasers. Their line of shampoos includes:
Coconut & argan bar soap for deep cleansing;
Argan stem cell + chlorella growth factor for promoting hair growth
Moroccan argan oil to help restore damaged hair;
Sea buckthorn collagen builder to strengthen thinning hair;
Prickly pear cactus to add moisture;
Sea kelp superfoods to nourish dry scalp;
Echinacea stem cell + baking soda clarifying scrub for removing buildup.
True Botanicals's MADE SAFE certified shampoo is packed with antioxidants and botanicals that will leave your hair clean without stripping away its color and natural oils.
Having healthy, glowing hair starts with the right shampoo. To get that shiny, vibrant look and feel, you need to choose products without DMDM hydantoin, a possible irritant and allergen in many leading shampoos. Luckily, True Botanicals has you covered! Their collection of sulfate-free shampoos are specifically designed for grey hair and helps restore color with purple pigments. Pick from their best shampoos without DMDM hydantoin for that shiny and vibrant look.
Another great choice is Annemarie's Pure Clean shampoo which effectively removes dirt and buildup without any harsh chemicals.
If you want healthy, manageable hair that's free of harsh chemicals, then look no further than shampoos without DMDM hydantoin! Studies show that sulfate-free shampoos can reduce hair loss, and purple shampoos can restore color to grey hair. Plus, those with grey hair should choose a specific shampoo designed for their needs to avoid damage. To get the best results and maintain good hair health, choose your shampoo wisely!
Want to get glowing hair without harsh ingredients like DMDM Hydantoin? Consider Juice Organics! Their products are made with organic, plant-based ingredients and are free of sulfates, parabens, silicone, phthalates, PEGs, and synthetic fragrances. They offer shampoos and conditioners specifically formulated for different hair types – such as curly and color-treated – that won't strip your locks of essential oils. With hydrating formulas that nourish each strand, you're sure to get healthier tresses in no time!
Keep your hair healthy and radiant with 100% Pure's collection of shampoo and conditioners free from DMDM hydantoin! Formulated with natural ingredients such as aloe vera, coconut oil, and botanicals for a gentle, nourishing cleanse that doesn't strip away essential oils. All the products are cruelty-free and environmentally friendly, so you can feel good about your choices. Get ready to experience beautiful hair without any harsh chemicals or synthetics.
Chagrin Valley offers a selection of high-quality shampoos and conditioners that are free from harsh chemicals like DMDM hydantoin. Their products use natural ingredients to promote healthy hair growth, reduce frizz and add shine. The result is beautiful, glowing hair with no damage or irritation. Try Chagrin Valley for the best shampoo without DMDM Hydantoin!
Garnier Fructis Shampoo Pure Clean is a great shampoo without DMDM Hydantoin and other formaldehyde-releasing preservatives. It has a refreshing apple scent and is free of sulfates, parabens, phthalates and other harsh chemicals. It gently cleanses your hair while helping to eliminate frizz and adding shine.
Puracy Natural Shampoo & Conditioner is gentle on the scalp and full of natural ingredients, such as plant-derived surfactants, coconut oil, jojoba esters, and pro-vitamins B5 & E. It is sulfate free, cruelty free, non-toxic and safe for colored treated hair. This shampoo will help balance the oils in your scalp and keep your hair strong.
Baby & Kids Shampoos Without DMDM Hydantoin
Maintaining healthy and glowing hair is no easy feat. That's why it's important to choose the right shampoo for your hair type, as certain ingredients can be damaging to your mane. Research suggests that DMDM hydantoin may be detrimental to the hair, so look for shampoos without this ingredient. Sulfate-free formulas may also help reduce hair loss, while purple shampoos can help retain grey tones. Check out our top 17 picks for shampoos without DMDM hydantoin – they're sure to give you luscious locks!
Are you looking for the best shampoos without DMDM hydantoin? Consider these 17 top-rated baby shampoos that are free of this potentially damaging ingredient. Research has found that sulfate-free shampoos can reduce hair loss, and purple shampoo can help restore color to grey hair. For those with grey hair, it's important to find a specific shampoo designed just for them. Lastly, be aware that DMDM hydantoin can damage hair and may cause negative side effects.
Welcome to the world of beautiful and healthy hair with Hello Bello! Our 17 best shampoos without the dreaded DMDM Hydantoin are specially formulated to nourish and protect your locks, while preserving your natural color. With these top-notch products, you'll get glossy, vibrant hair that turns heads.
Common Ingredients Found in Shampoos Without DMDM Hydantoin
Shampoo without DMDM Hydantoin is an ideal choice for those with sensitivities and allergies to preservatives as it eliminates the potential for irritation. It's important to read through the ingredients list carefully before purchasing any shampoo, to ensure that it does not contain DMDM Hydantoin. Commonly used alternatives to DMDM hydantoin include: phenoxyethanol, potassium sorbate, sodium benzoate, and ethylhexyl glycerin.These non-toxic ingredients are often found in natural or organic shampoos and cleansers. While they may be more expensive than conventional shampoos, many of these products last longer because of their effectiveness. Plus, you won't be exposed to potentially hazardous chemicals like you would with traditional hair care products.In addition to avoiding DMDM hydantoin and other formaldehyde releasers, look for shampoos that use natural oils like jojoba oil or rosemary extract as these will help nourish and protect your hair while cleaning away dirt and debris. Many brands also offer sulfate-free options which help preserve color and reduce hair loss.
Class Action Lawsuit & DMDM Hydantoin Hair Care Products
A class-action lawsuit was recently filed against several hair care companies over the use of DMDM Hydantoin, a formaldehyde releasing preservative. The lawsuit claims that the products can cause allergic contact dermatitis, temporary hair loss, and other health risks. Possible DMDM hydantoin hair loss is certainly concerning, so it is important to look for hair care products with natural and safe ingredients in order to protect your scalp and hair from harmful chemicals.
Other Products That Commonly Contain Formaldehyde-Releasing Preservatives (FRPs)
Formaldehyde-releasing preservatives are chemicals often used in a variety of products, such as shampoos, conditioners, body and skin care products, cosmetics, and more. They can be found listed on the ingredient labels under different names such as Diazolidinyl Urea, Imidazolidinyl Urea, Quaternium-15 or Germall 115. Unfortunately, long-term use of FRPs has been found to cause skin irritation, scalp sensitivity and other negative health effects.
FAQ
Is There Formaldehyde in Shampoo?
If you have known allergies to formaldehyde, proceed with caution when shopping for a shampoo or hair product that contains DMDM hydantoin. This preservative could potentially cause detriment to your scalp and mane, so ensure you read the label prior to purchase.
Does Dove shampoo include the chemical DMDM hydantoin?
Dove is one of the leading beauty brands producing a wide range of hair products. While their exact formulation can vary slightly by product, they generally contain ingredients such as silicone and sodium laureth sulfate. Additionally, some Dove products may also use DMDM Hydantoin, a preservative that helps prevent mold and bacteria from growing.
Does Dove shampoo include any potentially dangerous ingredients?
Although Dove is known for its quality ingredients, it is difficult to ascertain if the brand's shampoos contain any potentially harmful chemicals. To ensure that products are safe, Dove adheres to stringent safety standards and carefully evaluates all of their ingredients.
It is worth noting that prior to October 2021, some shampoo aerosols were recalled due to elevated levels of benzene. Additionally, some hair products may contain DMDM hydantoin, a chemical which helps prevent mold and bacteria growth. Since benzene is a human carcinogen, it is important to research beauty products before using them.
Which shampoos do not contain formaldehyde?
Some shampoos are available that are free from formaldehyde. If you are looking for a shampoo without hazardous chemical, ingredients to look for include citric acid and glycerin. Other ingredients might be used in place of formaldehyde, such as sodium hydroxymethylglycinate and quaternium-15. To make sure a product is safe and free from formaldehyde, it's best to check the ingredient list on the label.
Does Dimethylol dimethyl (DMDM) Hydantoin break down into formaldehyde?
DMDM Hydantoin is a common preservative used in professional-grade hair products. It can be broken down and release formaldehyde, but not when it is directly added to the product. If the product contains impurities that catalyze its breakdown, then it may turn into formaldehyde. Therefore, it's important for manufacturers to use only high-quality DMDM Hydantoin and adhere to strict production processes. Even Better, it would be for manufacturers to ditch the use of DMDM.
Which shampoos are free of DMDM hydantoin?
If you're looking for high-quality shampoo without DMDM hydantoin, smaller companies market all natural or botanical-based products. There was also a recall of aerosolized shampoos in October 2021, so those should be avoided. Get yourself something that is free from any potentially hazardous chemicals and won't dry out your hair.
Conclusion
The best shampoos without DMDM Hydantoin are those that both improve your hair and keep it looking healthy, while also avoiding any potential allergens. I hope that thanks to this blog post, finding the right shampoo for your individual needs is easier than ever.
By reading the ingredients list carefully, you can make sure to find the best shampoo without DMDM Hydantoin that works for you. With so many to choose from, you should be able to get glowing hair in no time!
NOTE: we do our best to review the suggested products, however, the formulation of the mentioned shampoos and conditioners can be updated by the manufacturers without notice. So, please make sure to carefully read the product label before use.
You may also be interested in reading: